Project description
Hi from Apptension, Poland-based quality software craftsmen who mix outstanding tech skills with a solid dose of creativity. We partner with the world's leading brands, disruptive start-ups, and ingenious investors coding their ideas into reality!
We flavor our client's projects with the secret sauce which, taking dozens of awards they received into consideration, the industry finds delicious. But don't take our word for it - join us and see for yourself what the Apptension vibe is all about.
Your tasks
As a Project Manager at Apptension, you will be expected to:
manage digital projects with an Agile approach
manage project documentation
be in touch with the client, give advice and negotiate
communicate effectively with everyone on your team
take part in Apptension's mentoring program
create informative reports and control project budgets and timelines
drive innovation at Apptension and foster the best PM practices
seek the best possible solutions but also be able to recognize a situation when a quick fix is the best win for both the team and client
Who we're looking for?
We value great ideas and strong working ethics. Here's a list of the skills that we would like you to have:
minimum 2-year experience working as an IT Project Manager / Scrum Master
very good command of English both spoken and written (at least C1)
deep understanding of the software development life cycle
hands-on experience working with Scrum or other Agile Project Management frameworks
great organizational and planning skills
experience managing project scopes and budgets
ability to translate clients ideas into project requirements
Things that will help you stand out from the other candidates:
passion for new technologies and web development
eagerness to learn and experiment
experience working with international clients
familiarity with project and team management tools
examples of successful projects you have managed
formal agile project management certification
understanding of the software development life cycle
Scrum or other Agile Project Management frameworks
How we manage our projects?
Who makes architectural decisions?
Technical Leader, Head of Development, CTO
Who makes technology stack decisions?
Technical Leader, Head of Development, CTO
Project management software
Jira, Confluence, Google Workspace
Healthcare
Healthcare package
Healthcare package for families
Leisure package
Leisure package
Leisure package for families
Kitchen
Cold beverages
Hot beverages
Fruits
Snacks
Traning
Trainings
Books
Conferences
Parking
Car parking
Bicycle parking
Other
Shower
Integration events
Recruitment process
Call interview, Interview, Workshops
Get to know us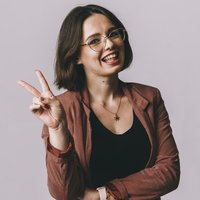 Aleksandra Leończyk
Hi folks! We're looking for driven individuals who want to join our excellent team of Project Managers. If you're a people person with great planning skills and a can-do attitude, Apptension is definitely a place for you.
Check out similar job offers