Aarhus, Warsaw

Technologies in the company:
Requirements
Experience level:
Mid
You:
Are able to deliver reliable and scalable products 
Are experienced with React Native and either iOS or Android development platforms 
Believe in producing high-quality, secure, maintainable and well-tested code 
Believe that technical documentation is an integral part of the product 
Know the value of good UX 
Can improve a design leveraging available tools (like animations) to their maximum 
Use metrics to make informed decisions 
Are a great communicator 
Are respectful towards other people
Technologies
Necessary on this position:
React Native

iOS

JavaScript
Nice-to-have:
Project you can join
Plecto is looking for a mobile developer with an iOS focus: a person with experience delivering complete, functioning, responsive and user-friendly apps. You should be able to build the app from scratch, deploy it and maintain it preferably using React Native.
We are a Danish startup with a recently opened Warsaw branch. We love open source, our developers maintain several projects. We strive to maintain an open, positive culture and emphasize good communication. We are growing, and we want you to grow with us – we will do our best to facilitate and develop your technical and leadership abilities.
The mobile application outline:
Constantly communicates with our backend server, leveraging JSON API and push notifications 
Integrates with wearable devices 
Provides great user experience while maintaining a clean and beautiful design 
We provide:
Ability to grow technically or into leadership roles 
Fun culture 
Work-life balance 
Fully stocked kitchens with coffee, tea, soda and food 
Yearly company retreats
How we code?
Version control:

GIT

Style guide
Code review
Pair programming
Static code analysis
TDD
BDD
Code metrics
Knowledge database
How we test?
Unit tests
Integration tests
System tests
Pentests
Performance tests
Manual testing
Test automation
CI
How we manage our projects?
Methodology:

Kanban

Who makes architectural decisions?

Team

Who makes technology stack decisions?

CTO and team
Toolset
Laptop
PC
Additional monitor
Headphones
Personal container
Phone
Freedom to pick your tools

Operating system
Work environment
Tech supervisor
Open space
Separate rooms
Dress code
Flexible working hours
Paid vacation:

25 days per year
Bonuses
Cold beverages
Hot beverages
Fruits
Snacks
Lunches
Adaptation tips
Language courses
Temporary housing
Help finding an apartment
Visa Services
Sign up bonus
Flight ticket
Money for moving expenses
Conferences
Trainings
Books
Car parking
Bicycle parking
Shower
Chill room
Playroom for children
Integration events
People who may interview you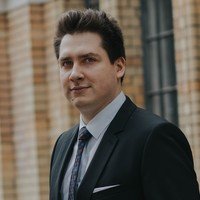 Krzysztof Bujniewicz