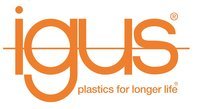 Warsaw

Number of employees:

120

Capital:

foreign

Technologies in the company:
Requirements
Experience level:
Mid
Technologies
Necessary on this position:
Angular

TypeScript

JavaScript
Necessary and we can teach you:
Nice-to-have:
Project you can join
About us: The igus® GmbH is a developer of innovative high-performance polymers for the industry. As a specialist in plastics for moving applications, igus® GmbH offers its customers a comprehensive selection of tribo-optimised polymer bearings, energy chain systems and cables for the Industry 4.0, including the lightest linear guide in the world made of carbon. With over 3,700 employees and offices in 35 countries, the company headquartered in Cologne is a global player.
About the project: Cross platform applications, designed for our clients and engineers, allowing the customization and purchase of our products.

If you want to know more, check this article: http://www.mechanik.media.pl/artykuly/fabryka-on-line-jak-narzedzia-on-line-zmieniaja-przemysl.html
How we code?
Style guide
Code review
Pair programming
Static code analysis
TDD
BDD
Code metrics
Knowledge database
How we test?
Unit tests
Integration tests
System tests
Pentests
Performance tests
Manual testing
Test automation
CI
How we manage our projects?
Methodology:

Agile

Who makes architectural decisions?

Developers

Who makes technology stack decisions?

Developers

Concurrent projects per team member?:

1
Opportunity to change between projects
Toolset
Laptop
PC
Additional monitor
Headphones
Personal container
Phone
Freedom to pick your tools
Work environment
Tech supervisor
Open space
Separate rooms
Dress code
Flexible working hours
Remote possible:

20%

Business trips:

few days each few months

Paid vacation:

26

Office hours:

6 - 18
Bonuses
Healthcare package
Healthcare package for families
Leisure package
Leisure package for families
Cold beverages
Hot beverages
Fruits
Snacks
Lunches
Conferences
Trainings
Books
Car parking
Bicycle parking
Shower
Chill room
Playroom for children
Integration events