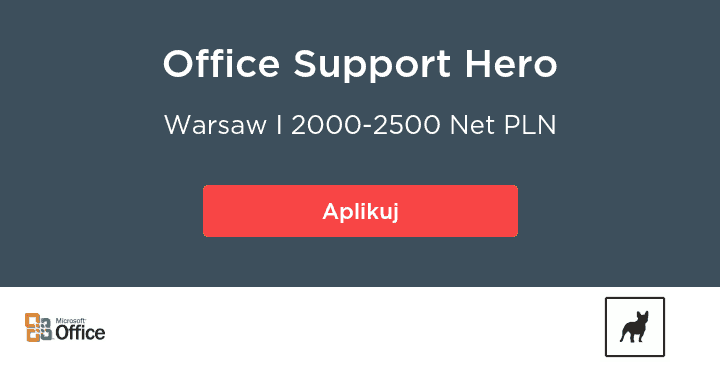 News you've all been waiting for - Bulldogjob is hiring! We are looking for the Office Support Hero, and it could be you. Read on if you want to help our team in creating the space for all IT people. 


Office Support Hero
Location: Warsaw
Primary Job Responsibilities:

Based in Warsaw, you will be a Bulldogjob guru in all administration-related issues. Not only will you assist our employees with their daily existence both inside and outside the office, but also provide an outstanding experience for our external visitors. More specifically, you will be responsible for:

• efficiently managing telephone calls as well as incoming and outgoing correspondence, including cooperating with courier and shipping services
• welcoming and taking care of guests
• Assisting our employees in the organization of local and overseas business trips, including booking tickets and accommodation
• organizing meetings outside the office, if needed
• managing the conference room booking system as well as the expenses management system
• cooperating closely with Management
• liaising with external stakeholders and business partners
• handling broadly defined paperwork
• purchasing office equipment, and ordering office supplies, food, and beverages
• providing general administrative support for all Bulldogjob branches on a daily basis


Job requirements:
We are looking for a self-motivated individual with a can-do attitude and superb communication skills. Sounds like you? Say yes if you have:
• very good command of English
• excellent attention to detail and the ability to prioritize duties
• comfort working confidently without or under little supervision
• ability to interact with internal and external contacts at a senior level
• working knowledge of MS Office
What do we offer?

• Never be bored again, as you work, grow and face new challenges with a team of true professionals
• take the initiative to influence work procedures and solutions actively
• enjoy a laid-back atmosphere and casual dress code


Application:
Please send an email with short information about yourself to career@bulldogjob.pl
We will reply to selected applicants.