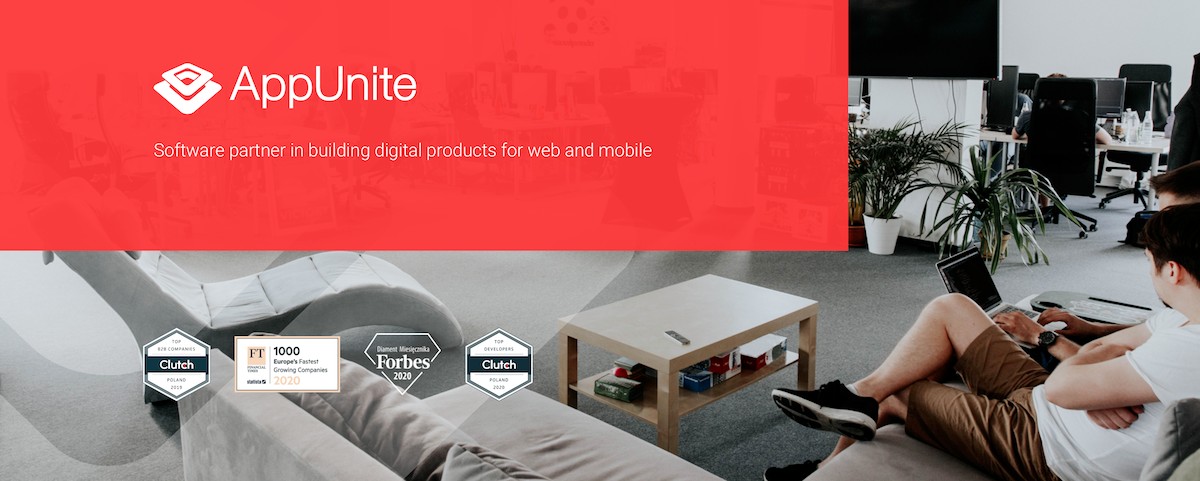 Project description
Who are we?
A team of 18 people within the AppUnite family, working on products for various industries.
On a daily basis, we do our best to help our clients with the challenges that they are facing. Feeling responsible for our products is a crucial part of ownership which we are not afraid of. Quality is our daily driver. We think about the final product, not just the mere lines of code, and believe that individuals and interactions are more important than processes and tools. We aim to shape the way we work rather than accept the status quo.
What do we use?
Swift (we have a huge codebase and some of it is still using Obj-C)
RxSwift
Modular app architecture
Monorepo for our applications
Unit tests
Snapshot tests
Sourcery
SwiftGen
XcodeGen
Protobuf
Your tasks
What do we do?
The product has started as a social media platform and expanded to other industries such as fin-tech or audio conferencing. This variety allows us to solve truly diverse problems, use a broad spectrum of technologies and touch multiple areas of software development. We have obtained a significant user base, so we need to solve the problems at a scale, which proves to be a challenge that drives us every day.
Who we're looking for?
Who are we looking for?
We are looking for a senior iOS developer, with at least 3 years of commercial experience, who will help us maintain and grow our applications, as well as lead the iOS part of our team. We are also open to developers who are not on the senior level yet - with the right mindset of yours, as well as some mentoring of experienced iOS developers in our team, we believe that you can get there with us. And what is thigh "right mindset about"?
You are proactive - we expect you to come up with ideas and technical improvements.
You want to learn every day - the growth mindset is a must-have.
You must be eager to take on the challenges - we run a huge codebase that powers complex features so you will find plenty of them here.
You are a team player - we expect you to cooperate closely with the rest of the team.
You are not afraid of telling the team what your opinion is - we want you to be involved in the decision-making process when it comes to choosing the right technical solution.
You can take care of the app quality - in terms of both - user experience and code.
Why should you choose to join our team?
We work on diverse products, using various technologies and learning how multiple industries work.
We give and receive feedback CONSTANTLY to ensure that you, the team, and the client, are on the right track.
We are flexible when it comes to how we organize our work - our goal is to solve problems using suitable tools instead of being attached to a single process.
We build products that are growing fast, thus the key elements of our systems are always crafted with a focus on quality and performance to ensure that they remain robust and maintainable.
We listen to each other to ensure that the good ideas are always considered, regardless of where they come from.
We work on products that twenty thousand users use every day (with over one hundred thousand active each month).
You will be able to learn by solving problems, which can only come with the scale of the product.
We participate in creating new features from the initial idea, through the technical review and assessment, to shipping it to the production.
How we manage our projects?
Methodology
All Applicable
Who makes architectural decisions?
Team
Who makes technology stack decisions?
Team
Project management software
JIRA, Asana
Healthcare
Healthcare package
Healthcare package for families
Kitchen
Cold beverages
Hot beverages
Snacks
Traning
Conferences
Trainings
Books
Parking
Car parking
Bicycle parking
Adaptation tips
Language courses
Temporary housing
Help finding an apartment
Other
Integration events
Chill room
Shower
Check out similar job offers