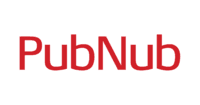 PubNub
HR:

Yes

Number of employees:

100+

Aleja Walentego Roździeńskiego 1A 8th Floor 40-202 Katowice  POLAND, Katowice
Technical skills we value
About us
PubNub offers realtime infrastructure-as-a-service, and provides enterprise-grade security, 99.999% SLA-backed reliability, and global scalability to support the largest realtime deployments, all via simple APIs and 70+ SDKs. Additionally, developers can take advantage of value added features for application areas like chat, collaboration, IoT device control, and realtime updates to further accelerate build and release times.
What you would create with us?
PubNub set out in 2009 to develop a Data Stream Network (DSN) for developers to build realtime apps as easily as building a web page, without worrying about security, reliability, or scalability. The PubNub DSN provides global cloud infrastructure and key building blocks for realtime interactivity, and lets developers focus on customer innovation. Today, PubNub powers thousands of realtime apps around the world, from innovative start-ups to globally recognized brands, like Adobe, eBay and Samsung. We handle trillions of realtime transactions per month from over 300 million unique devices. And we offer <250 millisecond latency around the world, through our 15 global Points of Presence. Learn more about how PubNub works and start building your own realtime apps today!
Why it's worth to work with us
We work hard and have fun doing it! We believe that we are creating something that will truly transform how people interact with technology, and support that with an amazing culture and great benefits including a competitive salary and pre-IPO stock options. PubNub is based on a fun culture and team spirit and this role will be a key contributor to bringing that culture to one of the company's first offices outside of the US.
Bonuses
Healthcare package
Healthcare package for families
Leisure package
Leisure package for families
Cold beverages
Hot beverages
Fruits
Snacks
Lunches
Conferences
Trainings
Books
Car parking
Bicycle parking
Shower
Chill room
Playroom for children
Integration events
We are recruiting
No offers
Job offers from other companies