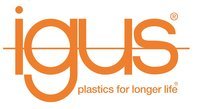 igus
HR:

Yes

Number of employees:

120

Capital:

foreign

Działkowa 121C, Warsaw
Technical skills we value
About us
Historia firmy igus® rozpoczyna się 15 pażdziernika 1964 od Güntera Blase i podwójnego garażu w Kolonii- Mülheim.
Przez pierwsze dwadzieścia lat dostarczaliśmy złożone elementy z polimerów do zastosowań technicznych.
W roku 1983 Frank Blase uruchomił własne linie produktów: Prowadniki Przewodów oraz Łożyska Polimerowe, które obsługuje sieć inżynierów sprzedaży rozmieszczonych na całym świecie. Między rokiem 1985 a 2016 zwiększyliśmy liczbę pracowników od 40 do ponad 2950. W nadchodzących latach będziemy ekspansywnie inwestować. Szanse zawdzięczamy nowoczesnym materiałom!
igus pomaga tysiącom inżynierów w Polsce znaleźć idealne części techniczne (łożyska, prowadniki do kabli) do ich zaawansowanych maszyn. Jesteśmy światowym liderem wśród rozwiązań wspierających konstruowanie aplikacji ruchomych. 

Nasz zespół to ludzie tworzący ambitne środowisko pracy, którzy przedkładają sukces ponad wygodę i stagnację. Ponieważ działamy na bardzo konkurencyjnym rynku, od naszych pracowników zawsze oczekujemy pełnego zaangażowania. Jeśli zdecydujesz się do nas dołączyć, w zamian zapewnimy Ci stabilne miejsce pracy oraz starannie zaplanowaną ścieżkę rozwoju. Konsekwentnie planujemy kariery pracowników igus®. Większość naszych menedżerów to osoby, które zaczynały od niższych stanowisk i sukcesywnie realizowały stawiane przed nimi cele .
What you would create with us?
Online tools

Why it's worth to work with us
Flat structure
International team
Multi platform products
Lots of benefits
Bonuses
Healthcare package
Healthcare package for families
Leisure package
Leisure package for families
Cold beverages
Hot beverages
Fruits
Snacks
Lunches
Conferences
Trainings
Books
Car parking
Bicycle parking
Shower
Chill room
Playroom for children
Integration events
We are recruiting
No offers
Job offers from other companies