5 Recession-Proof IT Jobs
What are the best IT jobs for crisis times? Find out which IT positions are well-paid and allow remote work.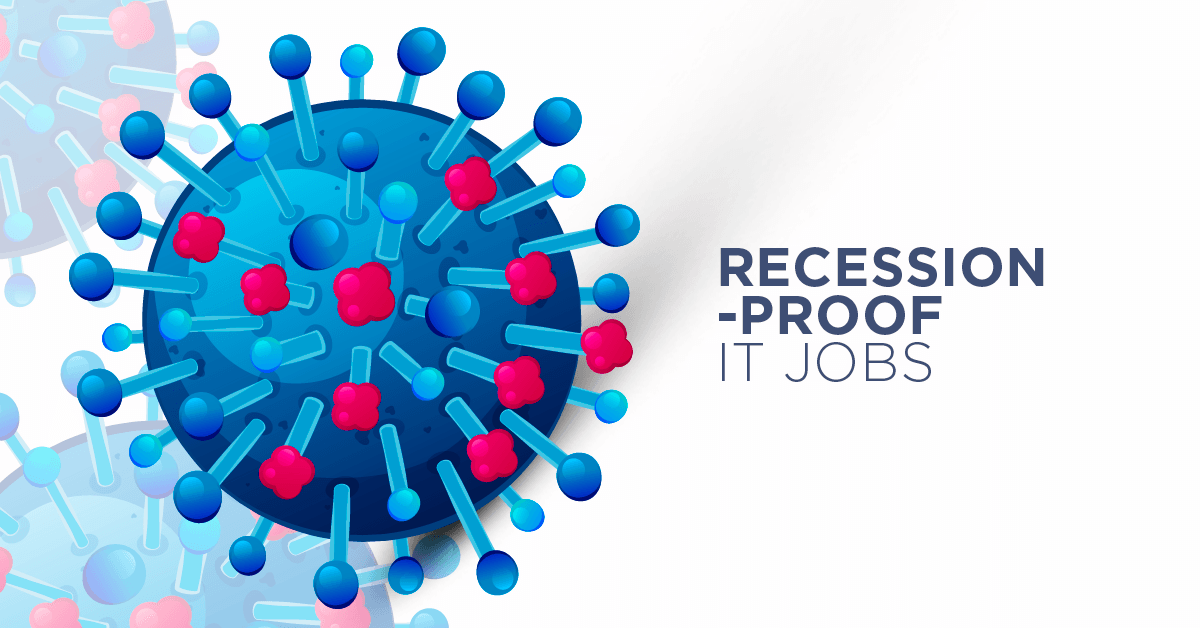 2020 didn't start out well for many industries. The COVID-19 pandemic led to severe losses in different sectors, from the hospitality industry to transport and trading. Stock market declines are often comparable to those from the 2008 crash. 
In this situation, you probably found yourself wondering: are there any professions with a future that could be immune to a similar crisis? How does one choose an industry that will ensure a sense of security and a stable income, even in difficult times?
The IT industry might be the answer. In this article, we're going to describe 5 stable jobs that can be worked remotely.

Software developer
When IT is mentioned, most people think about software developers first. According to the Bulldogjob report from 2019, 82% of Polish IT workers are professionally connected to programming. Five of the most popular programming language include JavaScript (which is also the most popular language amongst remote workers), Java, SQL, C# and Python. Other commonly used technologies include PHP, .NET and C++.
The report confirms that the lion's share of all software developers appreciates the possibility of remote work. It's one of the factors they consider when choosing the employer. This kind of flexibility is particularly helpful in crisis situations, such as the latest pandemic.
So, how do you start your IT career? Does a software developer need to graduate in computer science? The Bulldogjob survey proves that it's not necessary. Only 37% of developers have a master's degree, while 29% have a bachelor's degree. Programming courses (including weekend ones) are growing in popularity. This solution makes career change possible even for those who have to continue working full-time.
How do you choose the right course, then? Codecool has a pretty remarkable offer. It's the only programming school in Poland that will prepare you to become a Full-stack developer. In practice, this means that a Codecool graduate will be able to work as both a front-end and a back-end developer. The range of career opportunities is quite wide! What's more, the courses are mostly practical. Thanks to this advantage, you can start working in the IT industry right after graduation.

Data scientist
Glassdoor, a well-known job and recruiting website, has published an interesting economic research report about professions that are particularly needed in the face of the COVID-19 pandemic. The list includes data scientists, too. This is hardly a surprise – data analysts track the spread of coronavirus and create models which help predict the development of events.
These professionals are very much in-demand right now. Data science skills are necessary for creating machine learning algorithms and AI-based products. Analytics is also an essential part of digital marketing and ecommerce. 
Working with data requires a good knowledge of statistics and specific programming languages. Python is the most commonly used technology in this field, while Java and R both remain popular. 

UX Designer
Working in IT doesn't mean that you need to know how to code. Perhaps a UX career is what you're looking for? As the name suggests, UX designers are responsible for creating the user's experiences. In other words, their job is to make applications and websites easy to use.
Some UX professionals know how to code, yet it's more of a nice-to-have skill. Most of the time, they're people who graduated in psychology, sociology and other research-related fields. Graphics design skills are also sure to come in handy. 
The demand for UX designers is currently on the rise. What's more, UX industry reports show that around one-third of user experience professionals appreciate their stable pay and the possibility of remote work.

QA Tester
If you're proud of your attention to detail, software testing (also known as quality assurance) might be just the perfect job for you.
When software developers and UX designers create a product, someone needs to take care of the quality. This job belongs to the software tester. They're responsible for running tests to find bugs in the code. 
A QA tester doesn't have to code, yet they need to know the basics of different programming languages. The two qualities that matter most in this job are attention to detail and patience. Just like in previous cases, remote software testing is a common practice, and many employers are open to this solution.

IT Recruiter
IT jobs require a very specific set of skills. Someone's got to find the right people, which isn't always easy. Here's where IT recruiters come in. If you enjoy working with people and technology is your cup of tea, but you don't really want to code, the HR field might be the right pick for you.
Many IT recruiters work with candidates from all over the world. Most meetings take place online, which makes this job quite remote-friendly. A good IT headhunter should be communicative and enthusiastic about continuous learning. The knowledge gets outdated quickly, as the industry is constantly developing.

Is the IT sector recession-proof?
The American Bureau of Labor Statistics estimates that the demand for software developers will grow by 21% within a decade. For scale, the average growth rate for other industries is around 5%. What's more, remote work is an IT industry standard. Thanks to this, this sector is relatively immune to many unpredictable threats, such as the COVID-19 pandemic. If you're looking for a stable job, you might want to consider becoming a software developer, a data scientist, a QA tester, a UX designer, or an IT recruiter.