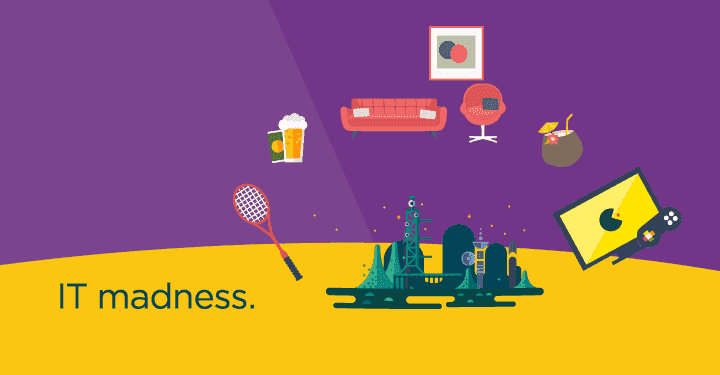 More and more often IT companies in order to attract valuable employees conduct customized and non-standard recruitments. Unfortunately, sometimes they appear absurd. Is that really what programmers looking for new jobs are interested in?
 
According to Eurostat about 50 000 more programmers should be employed in Poland and prognosis are that this number is growing each year. There are more jobs for coders than coders themselves, which means that competition is really fierce.
 
Step out or die!

IT is undoubtedly an employee-market. It means that the employee has the biggest influence on the terms in employment contracts. This makes it even harder to recruit a specialist with high qualities and experience. Because of that the employers are choosing non-standard recruiting procedures – they want to get the attention of the best programmers. Most of IT recruiters choose methods already tried out by other companies e.g. handing out gadgets, painting office walls in bright and original colors, offering yoga classes, fruit, providing PS4 consoles, foosball tables or billiard or organizing chillout rooms in the office.
Some of the recruiters go even further and publish job offers with attractive pictures attached to them – alluring woman with a T-Shirt, that says "Android Developer wanted!". But is this necessary in recruiting process? Do programmers expect that kind of actions?
 
It's wonderful, that IT empoyers care for comfort of their employees. The problem is that the quest for the best employee is so consuming, that IT recruiters start to forget what is essential. If everyone wants to be innovative and exeptional – no one is. The recruiting process starts to transform into madness. It prevents employers from seeing the things that for a qualified programmer matter the most – creating software, developing technology, self-development.
 
How to effectively recruit IT specialists?

In September 2015 we conducted study, which shows that self-development and a good paycheck are two things IT employees value the most. Moreover, programmers are often tired by employment agents, who are not familliar with the specifics of IT.
 
Our study shows that IT specialists have their dream-employers. This group mostly consists of well known, international brands, like Google, but you will also find there smaller companies, which developed their brands for years and therefore are more attractive for programmers. Those companies are more likely to gain motivated workers.
 
Employers and recruiters must bare in mind, that programmers have their plans and dreams regarding the course of their careers. Additional but not IT-related benefits likely won't change them. You won't find IT employees browsing job offers on the internet or visiting recruitment fairs, because all of them are already employed. Programmers can be found in places, which are the source of knowledge and information.

Coders are eager to learn from others and expand their technical knowledge!

These are the reasons why you, dear employers, should create your brands by writing about your companies, your experiences with IT. It's guaranteed, that a programmer looking for a new job will keep an eye on those companies, which he or she has heard about. Another important term is continuity – don't pause the recruiting process. Job offers are only one part of it, not the core.
 
Building on studies and our experience, we advise employers to concentrate on the most important thing – the development of technology and employees. Let your brand be associated with technology, not yoga. Care for your employees, but maintain balance. Don't forget about your current workers – the way they see you is the best recomendation for your company.
 
Share your expertise, write about accomplished projects with patience and systematics. This way you will get the attention of experts, people who constantly expand their skills. They have the qualities desired by all employers.