​NewVoiceMedia's green-fingered volunteers support The Bluebells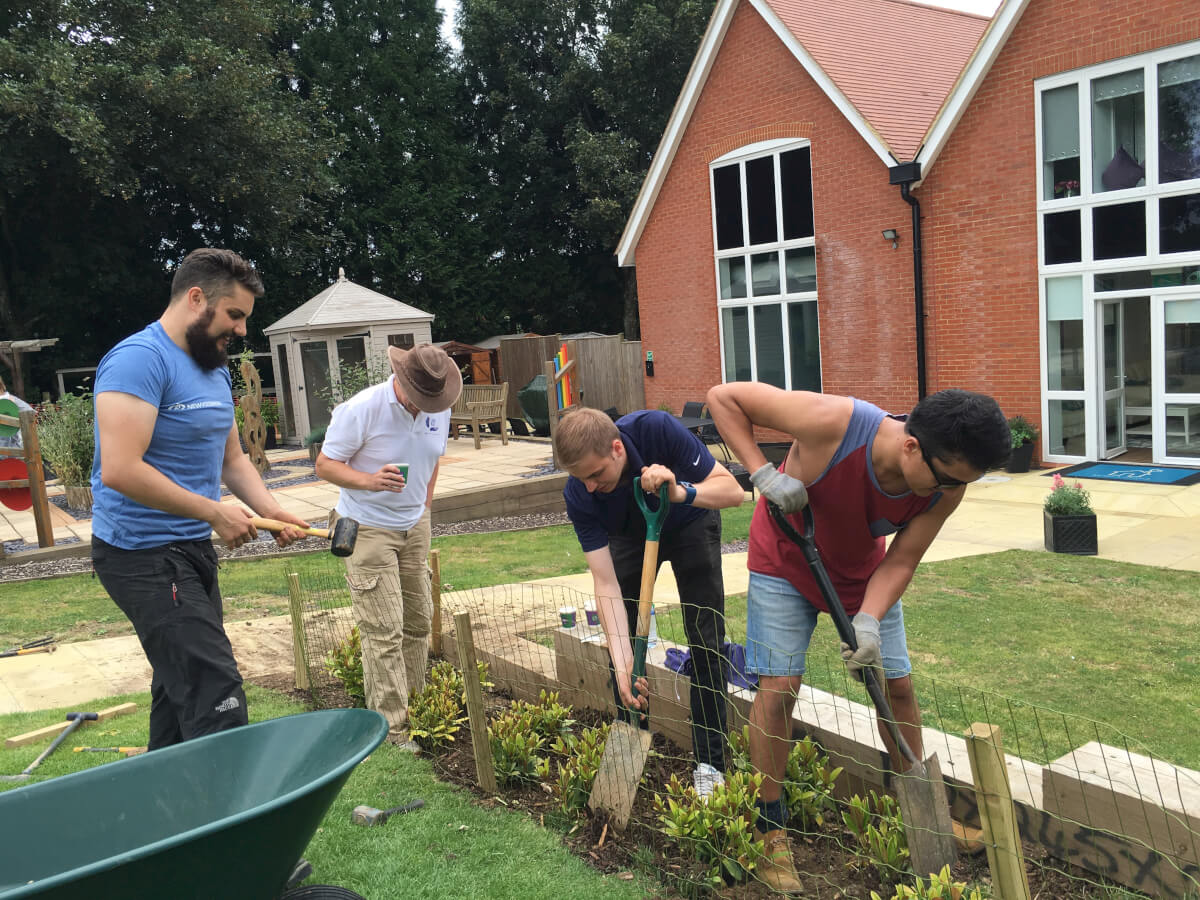 This Summer, volunteers from NewVoiceMedia's DevOps, sales and HR teams volunteered for a gardening project at The Bluebells, the UK's only purpose-built respite home created by Sebastian's Action Trust.
The home offers respite holidays for sick children and their families, enabling them to spend precious time together.
A question I'm often asked is how valuable painting or gardening is as a volunteering exercise. While we are trying to increase the amount of skills-based support we offer charitable organisations, we also recognise the value of general, practical volunteering activities.
Regenerating communal areas, especially natural environments, can add value in many ways. 
Contact with nature, (known as ecotherapy) can have a positive impact on the well-being of carers and sick children alike.
In fact, the outdoors is one of the oldest and most natural forms of therapy we have.
Pam Duff, chief gardener at The Bluebells, has created a beautiful space, but with four acres of land and only two days  on-site, she has a big job on her hands. This is where regular help from volunteers goes a long way. On arrival, the gardens looked beautiful and we wondered how we would be useful, but soon realised that keeping a garden to such a high standard required maintenance and Pam soon put us to work!
We built and mended yards of fencing, prepped and built the foundations for a shed, mowed the lawn (there's lots of it!) and shaped hedges. We also painted the children's wooden play areas and a new remembrance gazebo.
We were all amazed at the high standard and attention to detail present in every room at the Bluebells facility. Rooms were welcoming and immaculate – there is a high level of personal care and detail in every corner of the home. The Bluebells really is a home and provides an uplifting environment for the whole family to enjoy. The home is an inspiration and reminds families who are experiencing tough times that there is support available and genuine people who care.
Sebastian's Action Trust provides counselling and therapeutic support to help families deal with some of the critical issues they face on a daily basis. The Trust focuses care on parents to help them cope with the stress of hospital life and their child's gruelling treatment.
We donated 177 volunteer hours in total and all thoroughly enjoyed the experience.