Scala Wave 2017 - IT conference by the Baltic Sea, Gdańsk 7-8.07.2017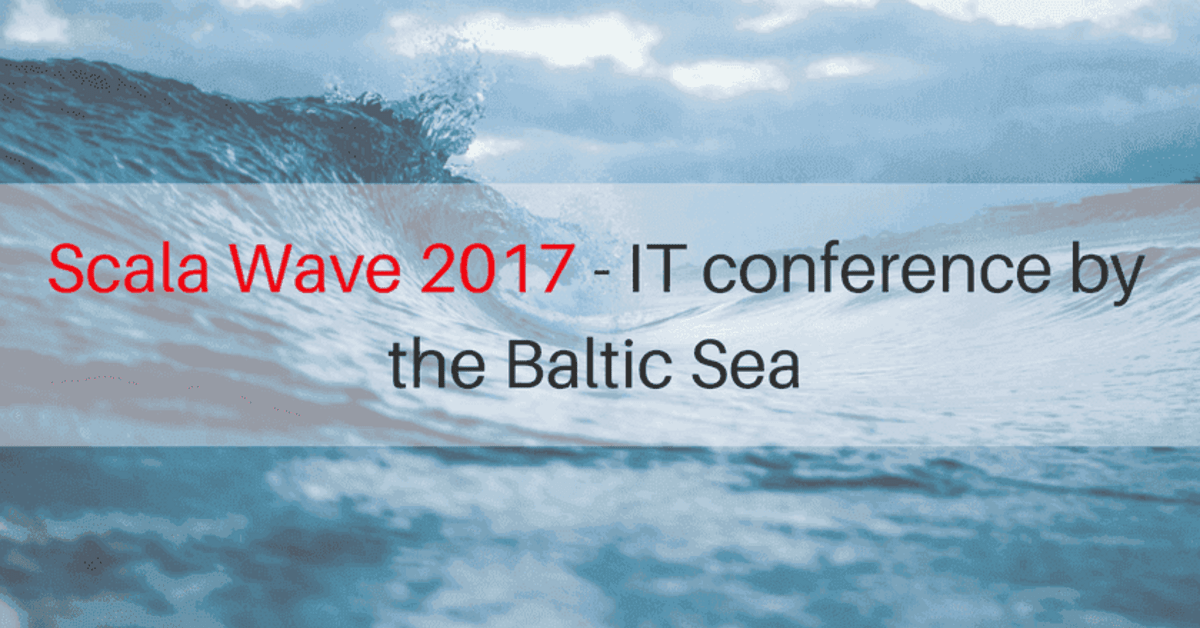 p.p1 {margin: 0.0px 0.0px 9.0px 0.0px; text-align: justify; line-height: 12.0px; font: 14.0px 'Gotham Light'; color: #000000; -webkit-text-stroke: #000000} span.s1 {font-kerning: none} span.s2 {text-decoration: underline ; font-kerning: none; color: #0000ee; -webkit-text-stroke: 0px #0000ee}
Meet functional programming approach in practice! The main theme of the conference is Scala - extraordinarily powerful programming language Join us! Scala language is continuously rising in popularity since company Lightbend introduced it to the world in 2003. Scala is becoming a useful tool serving business needs as well as tackling some modern social challenges like health, wellbeing,security and education. For this reason the demand for Scala experts is growing rapidly.
According to data available on Indeed the number of job offers for Scala developers doubled in 2016. A report published in August 2016 by O'Reilly Media placed Scala at the second position of the most popular programming languages to be learned by developers.
Workshop & Scala Spree Day - 7th of July
ScalaWave is dedicated to workshops and conferences so you can learn Scala, if you want to move your first steps on it, but also to improve your approach to this beautiful language and to functional programming in general.
Jump right in your Scala experience finding the best solutions to real technical problems
Learning tips and tricks directly from Scala rockstars selected for you

Your approach to daily programming will be more effective straight from the day after.

You can choose your favourite workshop:
Scala & akka basics 

Akka streams

Up and running with flink streaming 

Scala in Intellij IDEA

sbt workshop: from intro to plugin development 

DIY: functional optics

Microservices one layer at a time - peeling the onion
 
Conference Day - 8th of July
Listen to tech talks of our speakers about various aspects of the Scala world, from helpful design patterns of Scala applied to success stories passing by the exploration of cutting-edge technologies.

Use the opportunities to meet and speak with Scala enthusiasts from all over the world in a great summer atmosphere by the Baltic Sea region.
Best Scala experts

Miles Sabin (Typelevel), Roland Kuhn (Actyx), Eugene Yokota (Lightbend), Jon Pretty (Propensive), Daniel Spiewak (SlamData), Andy Petrella (Kensu), Paweł Szulc (SlamData), Justin Keaser (JetBrains), Marina Sigaeva (Tinkoff Bank), Andreas Köstler (Commonwealth Bank of Australia), Przemysław Pokrywka (SMT Software Services), Łukasz Gąsior (Scalac), Tomasz Sosiński (Scalac), Andrev Kozlow (JetBrains), , Marcin Matuszak (Iterato.rs), Jan Pustelnik (GFT Poland).
Summer beach party!
Attend WarmUp Beach Party in the breathtaking place!
Eat in the best restaurants and drink cold cocktails!
Do not forget: Have fun and enjoy every step you take!
Are you curious? Take a look at the conference agenda.
Tickets are limited, so what are you waiting for? Join us now and see you soon in Gdańsk!

If you would like to know what you can expect at ScalaWave, check out last year speeches.
You like this post? Want to stay updated? Follow us on Twitter.
Let's keep in touch: [email protected], [email protected]
See you in Gdańsk!