Want to shape the world of eCommerce with us?
As a Frontend Developer Vue.js at Divante, you will!
We're a proud originator of Vue Storefront - a bottom-up initiative that became the fastest-growing open-source eCommerce project on GitHub.
You will be working on a greenfield eCommerce implementation project based on Commercetools + Vue Storefront 2 in Composable Commerce approach for a large-scale company.
Using cutting-edge technologies is in our blood, that's why you'll be working with the newest version of Vue and TypeScript. While working on a project we also use Storybook, Cypress, and Nuxt. No legacy code!


In our team, we're focusing on the Agile mindset and mature approach to technology.
If you join us, you'll have the opportunity to work with large-scale companies from the Fortune 500 list!
Very well
JavaScript
Vue.js
TypeScript
Git
Your daily tasks as a Frontend Developer Vue.js:
Developing progressive Vue.js apps
Improving our JS and TS based open-source products
Creating integrations with third-party SAAS products
Performing technical analysis of business requirements
Providing bullet-proof functionality in cooperation with the QA team
Supporting fellow team members with your tech knowledge
You'll be a perfect match if you:
You have a commercial experience in JavaScript
You have a deep understanding of Vue.js and modern frontend solutions
You have previously worked in TypeScript
You are up to date with the latest ECMAScript standards
You have strong UI knowledge with SCSS expertise
You have experience with responsive web design
You have knowledge of Node.js and experience with tests in Jest, Cypress
You fluently communicate in English
It's great if you also have:
Knowledge about frontend performance optimization
Understanding of Vue.js SSR
Laptop

Additional monitor

Headphones

Windows

OS X
Healthcare package
Healthcare package for families
Leisure package for families
Leisure package
Trainings
Books
Language courses
Cold beverages
Hot beverages
Integration events
Car parking
Bicycle parking
Chill room
Shower
Divante is a global eCommerce solutions, experimentation, and thought leader. Our team of 350+ experts have delivered over 1000 projects for 400+ global brands as clients.
We empower eCommerce for both the B2B and B2C segments, working with companies like Bosch, SAP, W.EG Wurth or Axel Johnson International.
Our main business Partners are Magento, SAP, Shopware, Pimcore, Akeneo, commercetools, Vue.js, Symfony, to list just a few.

We believe in open-source. That's why we build vibrant communities of employees, contributors, clients, and advisors around our exceptional products and services.
This enables us to deliver projects quickly and in an agile way, giving our customers a competitive advantage. Our clients are present and future leaders in their industries; they all perceive technology as a key ingredient to the success of their companies.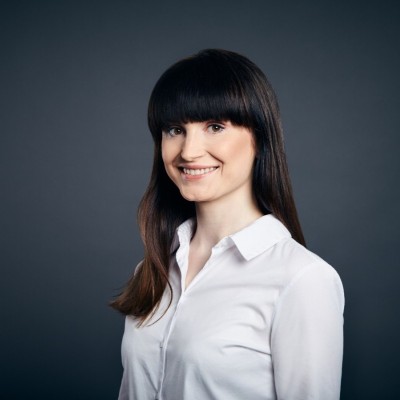 Sylwia Strzęciwilk
Senior Recruitment Specialist