Frontend Developer - jobs and salaries in Poland
Find out how much Frontend Developer earns depending on technology, work experience, form of employment as well as place of employment, and find out where to look for a job as a Frontend Developer.
A Frontend Developer is a specialist who, colloquially speaking, is responsible for what is seen "in the front" on the Internet. To be more specific, it is about converting data to a graphical interface using a specific technology. And here Frontend Developer should know 3 languages: HTML, CSS and JavaScript (although the first two are rather hard to call programming languages... ?).
Now that we know more or less who a Frontend Developer is, let's cut to the chase. In the following article, we will answer a few questions, but first of all we will focus on the following: how much does a Frontend Developer earn, when taking into account employment in Poland?
We will rely here on specific data collected from the advertisements with job offers for Frontend Developers and based on a report from IT Community Report 2022, which as Bulldogjob, we do each year. 
Be our guest!

More about Frontend Developer
We will look at what a frontend specialist "looks like" based on specific data.
17% of developers surveyed declared themselves Frontend Developers in the 2020 IT Community Report. This compares with the highest number of specialists working on the backend (42%) and Fullstack Developers (29%).
However, when it comes to programming languages, JavaScript is the most popular in the Frontend, with as many as 56% of respondents who programme with this language. In the second place we have TypeScript with a score of 35%, so the difference between the leading one and the next is huge.
The popularity of JavaScript in the frontend is not surprising. It's basically the only widely supported and used dynamic language for coding web pages. It's safe to say that modern websites can't do without JavaScript.
Now let's look at aspects such as work experience or age of a Frontend Developer.
Junior Frontend Developer is a programmer with less than 2 years of experience in his position. Mid, on the other hand, has been working for 2 to 5 years, and senior is usually already at least 5 years of experience. This shows that the average seniority of a Frontend Developer is more than 3.5 years.
It is also worth noting how old the statistical Frontend Developer is. The largest number of these specialists are between the age of 19 and 30 - there are about 73% of them among all those surveyed. 25% of respondents are between the age of 31 and 40, and just over 1.5% are over 40 years old. 

Frontend Developer Earnings
Talking about money during the recruitment process is not the easiest thing to do. Therefore, we will rely here on specific data to help you discern the market situation. We will also consider them in terms of several important factors, such as programming language, framework, contract, city, or company size and industry.

Programming language vs salary
First, programmers who code in TypeScript earn an average of 7646 PLN. 
Next we have JavaScript specialists, who on average earn 7028 PLN. 
At the bottom of the list are those who work with HTML and CSS, and these are the people who typically develop UI - their average earnings are PLN 5009.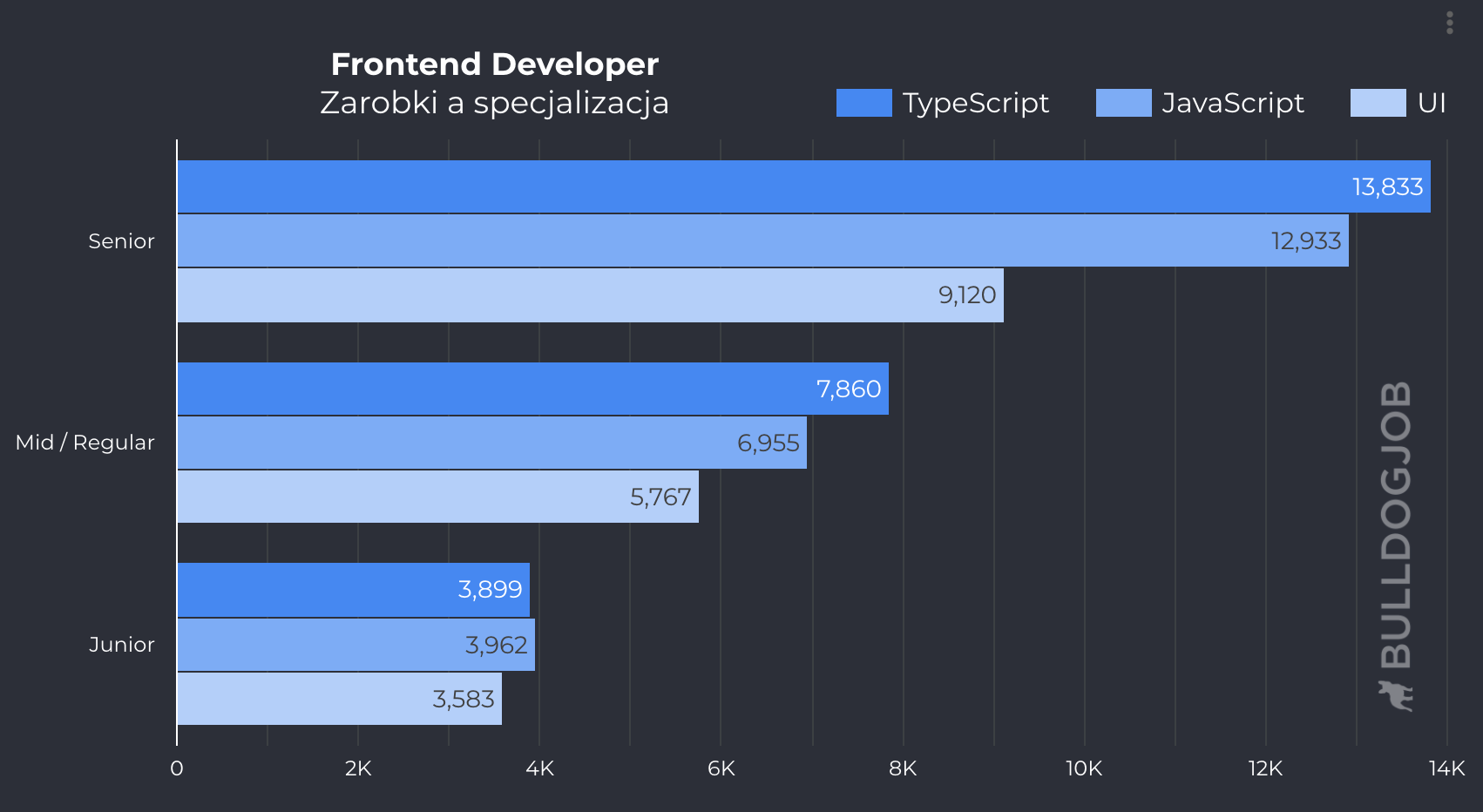 We see here that a minority of 25% who use TypeScript, earn on average more than the rest of the frontend developers. This could be an interesting, well-paying niche for people who are considering a career as a Frontend Developer.

Seniority vs salary
Here we will look at earnings by seniority with each of the aforementioned technologies.

JavaScript
The average salary of a Junior JavaScript Developer is PLN 3962
Mid JavaScript Developer earns an average of 6955 PLN
The average salary of a Senior JavaScript Developer is PLN 1293

TypeScript
Junior TypeScript Developer earns an average of PLN 3899 
The average salary of a Mid TypeScript Developer, on the other hand, is PLN 7860 
And Senior Typescript Developer earns on average 13833 PLN. 

HTML/CSS
The average salary of a junior is PLN 3583
Mid earns an average of PLN 5767
The average salary of a seniors, on the other hand, is PLN 9120



Frameworks vs earnings
Now let's take a look at the earnings of Frontend Developers against specific frameworks (or libraries). 
The average salary of Angular developers is PLN 7416
The average salary of developers using React is PLN 7035
The average earnings of those who program with Vue.js is PLN 5241 
It is worth mentioning that among those surveyed, it was those using the best-paid Angular who had the highest percentage of seniors. This probably has an impact on the final average score. Going a step further, Angular has been on the market the longest, so this also does not go unnoticed in the survey results.

Contract vs earnings
48% of Frontend Developers work on employment contract. Slightly fewer, 38%, work within a contract called Business to Business (or more simply, B2B). The rest, or 15%, have other contracts signed with their employers. 
The average salary on the employment contract is PLN 5585
The average salary on B2B, on the other hand, is PLN 9227 per month
It is worth noting here that the amount for B2B cooperation is the net amount on the invoice, and when it comes to an employment contract, here we have the amount of the actual pay off. Here you can read about the differences between B2B and employment contract.
The B2B contract is popular especially among seniors. Keep in mind, however, that only 49% of employers offer paid vacation for this type of collaboration - in the case of B2B without vacation, taking 26 days off means the amount on the invoice is about 10% lower. It is worth taking this into account in your calculations and when comparing the attractiveness of offers. 

Where does a Frontend Developer earn the most?
Overall, the differences between the regions here are not that big. Let's see what Frontend Developers' salaries look like in Poland's largest cities, using Mid Frontend Developer as an example:
Warsaw - PLN 8081 
Cracow - PLN 7059 
Silesian agglomeration - PLN 6070
Poznań - PLN 6096 
Tricity - PLN 6243 
Wrocław - PLN 6090 
Lodz - PLN 6989 
Szczecin - PLN 5886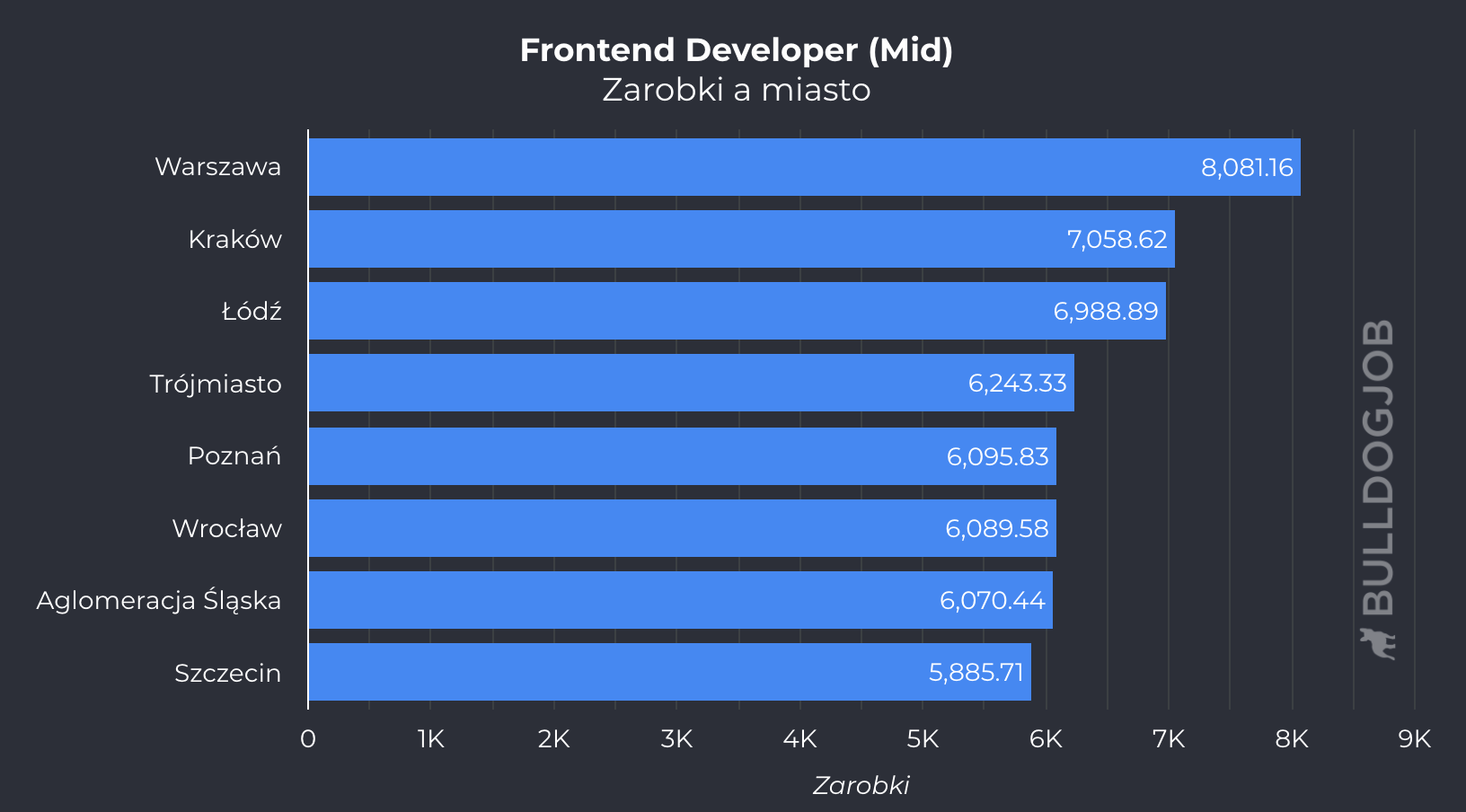 Industry vs salary
What kind of salary can you hope for in each industry? Let's see:
Finance / banking / insurance - PLN 9553 
Media / advertising / publications / entertainment -  PLN 6391
Software development - PLN 6526 
Web services - PLN 6110 

Company size vs salaries
In companies with 11 to 50 employees you can earn an average of PLN 5946. 
A large portion of the surveyed Frontend Developers also work in companies with 51 to 200 employees - they earn there an average of PLN 7168. 
The third group we'll look at are Frontend Developers, who work in companies of 2-10 people - they earn an average of PLN 4933. 
Some of those surveyed, on the other hand, work in companies ranging in size from 1,000 to 5,000 employees, or so-called corporations - there their average earnings are PLN 8195.
Frontend Developers working at companies with more than 10,000 employees, on the other hand, earn an average of PLN 7439. 

So where to look for a job?
Now all you have to do is to find your dream job. And where is the best place to look? On Bulldogjob, of course!
Here you can find the link to offers, where frontend is the main specialty. 
Set up an account on Bulldog, even if you are not now looking for a job. It will definitely come in handy for you when you start looking for one!

Final Thoughts
That would be it. We hope you find the above information useful in your job search and in preparing for an interview. We are also curious what statistics our next Survey and what the next year will bring in terms of market and job opportunities :) 
If there is anything else you would like to know or something to share comes to mind, let us know in the comments below!!