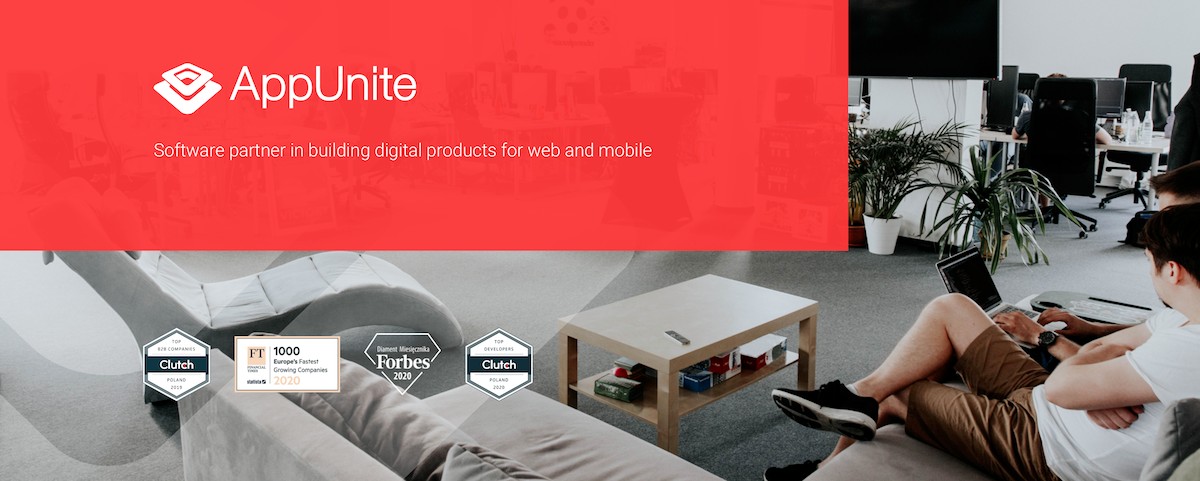 Project description
We are not a software house and not a product company either. We are something in between. We take the best from both of these approaches. In AppUnite, we uniquely structure our work - we form teams with our customers who work in the same way as their internal teams. Would you like to work in a startup without taking the risk of startup failure?
Or would you like to experiment with a corporate project without a corporate atmosphere? That's all possible in just one organization.
Having such a structure, we can better support career growth, understand employee needs, and match them with different product requirements. Teams at AppUnite are expected to exchange knowledge and experiences between them internally. This guarantees that we don't reinvent the wheel in projects and people develop much faster, as they can leverage other AppUniters' experiences.
When you join AppUnite, you are always engaged with your initial team. We help you find the best fit during the recruitment process, so you can just apply to our generic offer. We will help you decide on one of the open positions matching your background and experience during the walkthrough.
We have projects from different sectors, using a variety of technology stack, startup or enterprise environments, and in different phases of the product lifecycle that require different skills and experience from candidates. You can switch teams, but it's a mutual agreement between you and your leaders - it's all about discussion. This means that you won't be thrown into "projects" for a week and switch between them weekly, which sometimes happens in traditional software houses. Instead, you can plan your career path with us, since when you want to switch your technology, sector, team, the position, we will support you. Moreover, when you switch, we can still support your career growth because we know your story, needs, and expectations.
Here's the list of open positions for teams that you might work in:
We build deep, long-last relationships based on mutual trust with our clients. Our environment based on freedom and responsibility allows for direct influence on what we do and how we do it. It also requires deeper thinking about the obligations and commitments we make for businesses' successes we help. It means that your work is engaging and gives better results.
Who we're looking for?
At least 2 years of professional experience as a software developer,
Good knowledge of React framework,
Good knowledge of HTML5 and CSS3 APIs,
Experience in styling with solutions like Styled Components/CSS Modules/PostCSS/Sass/Less,
(nice to have) Experience with modern front-end workflows: git flow, project management tools, unit and E2E testing, build tools, REST APIs, CLIs, CI/CD,
(nice to have) Managing complex application state with Redux/Vuex is nothing new to you - you have a passionate opinion on how the application you are working on should ideally look like, but you're not too dogmatic about it so as not to ignore the business needs.
How we manage our projects?
Methodology
All Applicable
Who makes architectural decisions?
Team
Who makes technology stack decisions?
Team
Project management software
JIRA, Asana
Healthcare
Healthcare package
Healthcare package for families
Kitchen
Cold beverages
Hot beverages
Snacks
Traning
Conferences
Trainings
Books
Parking
Car parking
Bicycle parking
Other
Integration events
Chill room
Shower
Check out similar job offers